Flyers from Ferraro Foods
Ferraro Foods flyer
Valid: 12 Sept until 25 Sept
This Ferraro Foods flyer filled with discounts and offers is still valid for 4 day(s). View the latest offers from Ferraro Foods and save on purchases at Ferraro Foods.
Keep me updated
Want to receive a notification when the newest Ferraro Foods flyer is online?
32.511 people already preceded you
Keep me updated
Want to receive a notification when the newest Ferraro Foods flyer is online?
20.884 people already preceded you
Ferraro Foods flyer and deals
At the Ferraro Foods stores it is all about delicious food! From plant – based meats and specialty cheeses to fresh meat, fish and bread products. You will find some real bargains and discount prices in this grocery store where you'll find the best deals and weekly specials. To see the latest Ferraro Foods flyer this week, full of promotions on fresh and frozen-food products such as seafood and precooked meals, just check the Ferraro Foods store offers that are mentioned in the weekly ads in the latest weekly flyer. Our online catalogue is also full of recipes that you can first come and try out in the Cucina that's in our store! The Cucina hosts cooking demos (with recipes) and sampling multiple times a week! To find out where the closest Ferraro Foods store location is, just check The Ferraro Foods website. All the Ferraro Foods catalogues and stores are listed there so browse the flyers often and you will never miss any of the bargains!
Ferraro Foods website
Ferraro Foods's shops are in Rossland and Trail. To view all flyers for Ferraro Foods, and to find store information such as store hours, phone number, and promo codes or coupons, or to sign up to have our deals delivered to your inbox, simply click on www.ferrarofoods.ca. Make sure you put together your shopping list based on all the bargains you can find in the Ferraro Foods flyer! So check our website now, and if there isn't a Ferraro Foods store in a city near you, check the main website for the many other Canada Flyers that are available on flyerdeals.ca!
Your Ferraro Foods store
View the most current flyers and offers from Ferraro Foods and never pay more than you should. Ferraro Foods has 0 stores in Canada with weekly competitive offers. In the latest Ferraro Foods flyer you will find offers, that are valid from 12-09-2023 to 25-09-2023. This week there are 0 products, which you can buy at a discount, and possibly for the lowest possible price. Don't miss out on offers such as: Dynasty 12inch coolbreeze gel memory mattress w cover twin xl, Mcintosh or ginger gold apples and Shikoku sanuki japanese fz udon, 250gx5! Of course, Ferraro Foods offers plenty of more products, which are currently not on sale. You can order these in the webshop or pick them up at a pickup point or shop in your area. Choose your nearest location with our "location finder" in the top menu, next to the search box. You can also find more information such as the opening hours of your store in Brampton, Calgary, Edmonton or any other store in Canada on the Ferraro Foods website.
If you can't find what you're looking for in the Ferraro Foods flyer, check for offers at similar stores in the same category: Grocery, such as No Frills, FreshCo or Food Basics. You may be able to find the product you are looking for at the lowest price there. In addition to the promotions from the flyer, you can also save money at Ferraro Foods with a discount code. Check the Ferraro Foods website to get yours.
Frequently asked questions about Ferraro Foods
Show all...
Ferraro Foods promotions
🛍️

Ferraro Foods flyers:
1

🆕

New offers:
0

🏷️

Category:
Grocery

🕰️

Last flyer update:
Sept. 12, 2023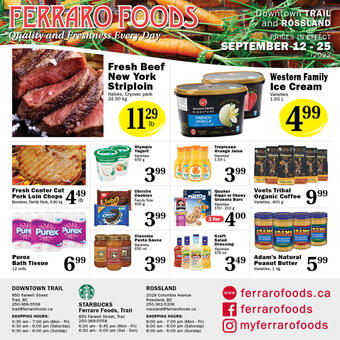 View the Ferraro Foods flyer in the app first!
View all flyers and compare weekly ads from hundreds of stores near you!