Flyers from Sally Beauty
Sally Beauty flyer
Valid: 18 Sept until 18 Oct
This Sally Beauty flyer filled with discounts and offers is still valid for 18 day(s). View the latest offers from Sally Beauty and save on purchases at Sally Beauty.
Keep me updated
Want to receive a notification when the newest Sally Beauty flyer is online?
22.610 people already preceded you
Keep me updated
Want to receive a notification when the newest Sally Beauty flyer is online?
27.015 people already preceded you
Sally Beauty flyer and deals
Check out the Sally Beauty flyer and catalogue full off not-to-be-missed offers this week. Browse through the weekly flyer for the biggest-ever promotions, wow-deals, coupons and special buys. Discover the latest sales & savings, not-to-be-missed offers and the most exciting weekly specials. Take a look at the Sally Beauty magazine and buy all your beauty essentials and favourite items for less!
What beauty products does Sally Beauty sell?
Get the best prices on salon-quality hair colour, hair care, nail supplies & much more. Their cosmetics and skincare range is huge, from cleansers & toners to moisturizers, from eye make-up to lipsticks. Sally Beauty provides you with the best in quality at affordable prices. Check out the weekly ad and the flyer of this week for incredible promotions.
What are the opening hours and locations of Sally Beauty?
From Vancouver to Toronto, Sally Beauty has over 100 stores across Canada. New deals and promotions are introduced every single week. Find all locations or your nearest store in the Canada flyers or online, together with the store hours and phone numbers. On the website, www.sallybeauty.com, you can discover the latest bargains, special offers, news and services. Use your discount or promo code and save even more. Sally Beauty: Pro quality for less!
Your Sally Beauty store
View the most current flyers and offers from Sally Beauty and never pay more than you should. Sally Beauty has 27 stores in Canada with weekly competitive offers. In the latest Sally Beauty flyer you will find offers, that are valid from 18-09-2023 to 18-10-2023. This week there are 0 products, which you can buy at a discount, and possibly for the lowest possible price. Don't miss out on offers such as: Vicks dayquil, nyquil sirop/syrup, caplets, Power scooter golden technologies buzzaround carry on and Option+ cold + sinus combo! Of course, Sally Beauty offers plenty of more products, which are currently not on sale. You can order these in the webshop or pick them up at a pickup point or shop in your area. Choose your nearest location with our "location finder" in the top menu, next to the search box. You can also find more information such as the opening hours of your store in Edmonton, Hamilton, Mississauga or any other store in Canada on the Sally Beauty website.
If you can't find what you're looking for in the Sally Beauty flyer, check for offers at similar stores in the same category: Pharmacy and Beauty, such as Jean Coutu, Rexall or Guardian Pharmacy. You may be able to find the product you are looking for at the lowest price there. In addition to the promotions from the flyer, you can also save money at Sally Beauty with a discount code. Check the Sally Beauty website to get yours.
Frequently asked questions about Sally Beauty
Show all...
Sally Beauty promotions
🛍️

Sally Beauty flyers:
1

🆕

New offers:
0

🏷️

Category:
Pharmacy and Beauty

🕰️

Last flyer update:
Sept. 18, 2023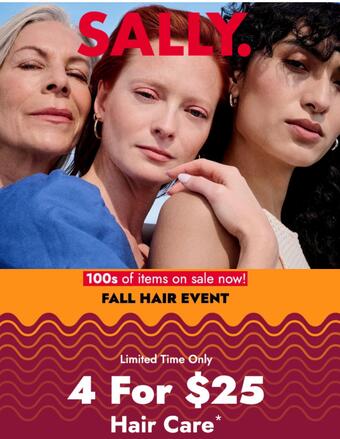 View the Sally Beauty flyer in the app first!
View all flyers and compare weekly ads from hundreds of stores near you!