Flyers from West Elm
West Elm flyer
Valid: 12 Sept until 9 Oct
This West Elm flyer filled with discounts and offers is still valid for 11 day(s). View the latest offers from West Elm and save on purchases at West Elm.
Keep me updated
Want to receive a notification when the newest West Elm flyer is online?
21.201 people already preceded you
Keep me updated
Want to receive a notification when the newest West Elm flyer is online?
38.782 people already preceded you
West Elm flyer and deals
Browse the most recent West Elm flyer and catalogue for a selection of modern furniture, houseware and home décor. Do not miss out on the incredible promotions, weekly specials, unbelievable offers and deals. Fill your home with timeless design and comfort at West Elm.
What type of furniture does West Elm sell?
Create a stylish living space with West Elm. From sofas to armchairs, from coffee tables to bookcases, they have everything you need to create your very unique living room. They take care of your dining room and kitchen too with a wide collection of dining tables, stools and chairs. Looking for the finishing touch? How about reviving your floors and windows with contemporary or classic designs? Their selection of rugs, curtains and lighting has everything for every style. Indoor our outdoor? West Elm has got you covered. Check out their biggest sales and savings in the weekly ad and weekly flyer.
What are the opening hours and locations of West Elm?
Visit the West Elm stores in Vancouver or Toronto. Check the store hours and phone numbers in the Canada flyers. On the website www.westelm.ca, you can discover the latest specials, best buys, special offers, news and services online. Don't forget to use your discount or promo code! West Elm: Quality at affordable prices. Simple!
Your West Elm store
View the most current flyers and offers from West Elm and never pay more than you should. West Elm has 0 stores in Canada with weekly competitive offers. In the latest West Elm flyer you will find offers, that are valid from 12-09-2023 to 09-10-2023. This week there are 0 products, which you can buy at a discount, and possibly for the lowest possible price. Don't miss out on offers such as: Oxford, 9 pc. marble turntable cheese board set and Grejig shoe rack, gray-green! Of course, West Elm offers plenty of more products, which are currently not on sale. You can order these in the webshop or pick them up at a pickup point or shop in your area. Choose your nearest location with our "location finder" in the top menu, next to the search box. You can also find more information such as the opening hours of your store in Brampton, Calgary, Edmonton or any other store in Canada on the West Elm website.
If you can't find what you're looking for in the West Elm flyer, check for offers at similar stores in the same category: Kitchen and Bathroom, such as IKEA, Kitchen Stuff Plus or Leon's. You may be able to find the product you are looking for at the lowest price there. In addition to the promotions from the flyer, you can also save money at West Elm with a discount code. Check the West Elm website to get yours.
Frequently asked questions about West Elm
Show all...
West Elm promotions
🛍️

West Elm flyers:
1

🆕

New offers:
0

🏷️

Category:
Kitchen and Bathroom

🕰️

Last flyer update:
Sept. 12, 2023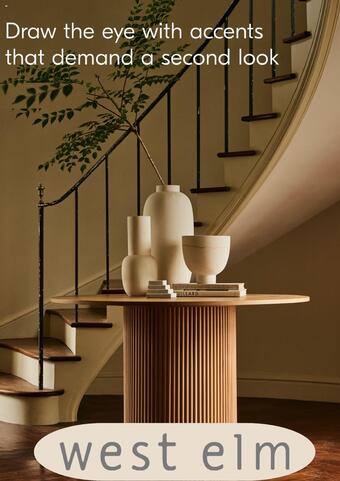 View the West Elm flyer in the app first!
View all flyers and compare weekly ads from hundreds of stores near you!